Connect Bank will process
Second Draw PPP loans
for its customers.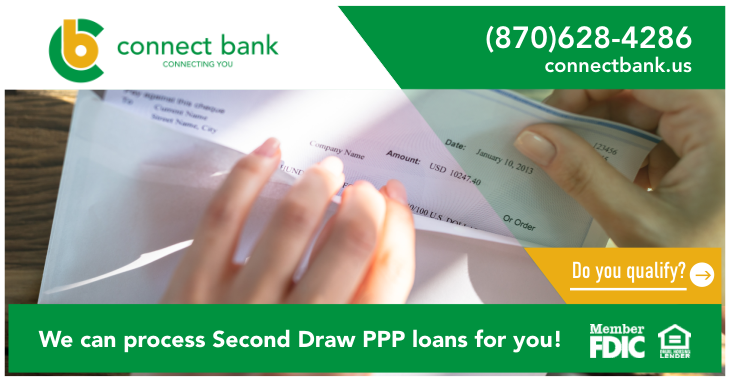 In order to qualify for a Round 2 loan, you must demonstrate that your gross revenues in
any quarter in 2020 were at least 25% less than revenues in the same quarter in 2019. If
you already had a Round 1 PPP loan with us, we have most of the information on file that
we will need. The additional information we will need from you includes:
Proof of Payroll – Payroll Breakdown by employee or IRS 941's for 2020
SBA Form 2483-SD – this PPP application is not yet available from the SBA
Profit and loss statement for your chosen quarter in 2019 and 2020 to demonstrate
you had a 25% revenue reduction.
We encourage you to review the SBA's guidance issued for PPP at the following link:
https://home.treasury.gov/system/files/136/PPP-IFR-Second-Draw-Loans.pdf
Borrowers are solely responsible for assessing their eligibility for PPP financing and their
use of PPP funds and should not rely on Connect Bank and its own interpretation of the
CARES Act.